Merry Christmas and Happy New Year from all of us at Schmid!
While waiting for the New Year that is about to begin, let's look back at the last few months of 2019!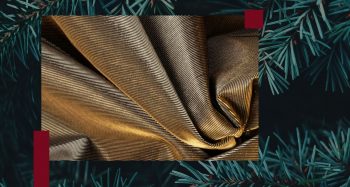 With only a few days left before Christmas, it is time for Schmid's offices in Milan to weigh things up. Therefore, while waiting for the New Year that is about to begin, let's look back at the last few months of 2019.
In the course of the February edition of Première Vision in Paris, buyers from The Hat Magazine – the voice of the hat trade worldwide – chose our Sweet Dreams fabric to come up with a unique hat, to be commissioned to an internationally renowned designer: Paul Stafford, the founder of the fashion house The Season Hats. The hat design process was later described in the article A Milliner's Vision on… published in the August issue of The Hat Magazine. If you wish to read it again, click here.
From 2 to 4 July 2019, we took part in the new edition of Lineapelle, New York, which presented the opportunity to launch the lines from our 2020-2021 Fall/Winter Collection, rich in materials and colours from the street style world and the Seventies, with animalier touches and with glitter embellishing the most glamorous items. A third, more classic and tailor-inspired mood was revealed at Première Vision in September. The full collection was then launched at the Milan edition of Lineapelle, from 2 to 4 October.
In September, Schmid strengthened its partnership with Progetto Quid, a social enterprise from Verona whose objective is to find a job for women with a personally or socially fragile background. It is precisely to Progetto Quid that our company decided to donate over two thousand metres of high-quality fabric: soft and smooth velvet and ultra-shiny glitter, which was then used to create three accessories for the Progetto Quid fashion line. A backpack and two different types of pencil cases, discover them here.
Lastly, at the end of the year, we announced two prestigious collaborations: one with Miyette, the Parisian luxury brand founded by Boris and Roxane Tardy, who chose our gingham printed glitter to enrich two creations from their 2020 Spring-Summer Collection; and the other one with Pretty Ballerinas, which asked Schmid to create an original and exclusive fabric, with a strong animalier style: a flocked mesh with leopard spots in white and total black.
Lastly, ample room was given to the imagination and creativity of young designers: after Schmid's project with students from IED, Turin, Schmid renewed its partnership with the Brera Academy. Therefore, making the most of the quality of Schmid's fabrics – microfibres, iridescent satins and flocked jacquard – the young student from Brera, Alessandra Morinelli, completed her graduation project and then passed the selection for Fashion Graduate Italia 2019, the annual fashion show dedicated to the most interesting ideas presented by the national academic world (are you keen to find out how it went? We talked about it here.
And now, while waiting to discover what 2020 has in store for us, all that remains is to wish you a Wonderful Christmas and a Happy New Year!