Happy holidays from all of us at Schmid!
Right before the summer holidays, an overview of the best moments of recent months.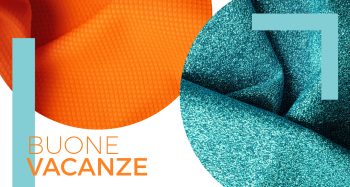 An exciting journey across trade shows around the world, many collaborations resulting from hard work and commitment: just before our summer holidays, here's an overview of Schmid's key moments in recent months. Are you ready? Let's go!
On 30 and 31 January, we went to New York for the first annual appointment of Lineapelle, the fair that opens the summer season of the market. This was a very important event for us since we launched here the first two moods of our 2020 Spring/Summer collection: Endless Future and Wonderlandia!
Whilst in New York, we presented our proposal to collaborate with other companies in the sector to offer American customers the First Made in Italy stop shop. Our idea was to put together a group of companies, each offering its own unique expertise in fabrics, accessories and processing techniques, so as to create a set of proposal designed specifically for customers in the American market. We haven't succeeded yet in achieving this project, but we will continue to pursue it, maybe with other partners!
In the early months of the year, we focused once again on our mission to bring the excellence of Italian craftsmanship all over the world, focusing on products created by young designers. The American stylist Angela Scott chose the fabric Toile – created by Schmid on an idea presented by the young designer and Brera student Roberta Ercolano – to produce a shoe that is now being marketed in America.
We then went to Paris, where we participated in the new edition of Première Vision from 12 to 14 February.
We then returned to Milan for the new appointment with Lineapelle from 20 to 22 February. For that occasion, we launched the third and last mood of our 2020 Spring/Summer collection, Naturalia, together with a very special Naturalia, i.e. the bag made with Schmid's fabrics by Cooperativa Alice, which has been active for over 25 years in training and reintegrating women prisoners serving their sentence in the prisons of Monza, San Vittore and Bollate.
Lastly, on 13 and 14 March we flew to Alicante for a new appointment with Futurmoda, to find out more about a rapidly changing market which is all yet to be grasped.
After welcoming Andrea Badoni, our new Export Manager, into our company, we flew again to New York to present to the Tapestry Group (Coach, Kate Spade and Stuart Weitzman) products in line with our personality and language, though designed specifically for the Group's brands.
But now, after the first previews of our new collection, we just want to wish you happy holidays. We'll be back in September with Schmid's new products for 2020-2021 Fall/Winter!