Canvas: nature and innovation showcased at Futurmoda
Schmid created a new line of canvas fabrics for 2021 Spring/Summer fashion accessories.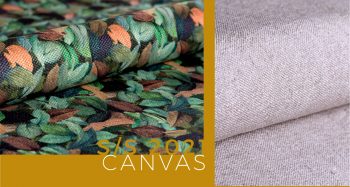 To redefine fashion codes whilst paying attention to sustainability. This is the common thread behind Schmid's creation of a new line of canvas fabrics for 2021 Spring/Summer fashion accessories, showcased at Futurmoda Alicante until 12 March.
Either in a solid colour or multicolour version, on a base of exclusively natural cotton, linen or hemp, these fabrics feature unique and completely original textures and hues.
Some have a deliberately rustic feel, to exalt the robust and raw quality of this natural fibre: such as Curcuma, a stretch canvas in linen and organic hemp. Others reveal a more natural, almost vintage quality, like Foliage, a 3D canvas with a mixed print of leaves conveying a camouflage effect.
The line also includes references to modernity: like Lotus Brillé, a fabric with a 3D texture, featuring a chiné floral pattern and a light glitter sheet, or Marocco, a thermoformed canvas with a slight padding that creates 3D micro-patterns.
Lastly, the line includes the animalier proposals of Tenerife, a thermoprinted canvas featuring a tiger pattern, and Tora, a canvas combined with a veil printed with zebra patterns.
All canvases by Schmid come in a wide variety of colours that range from grey to beige, from orange to yellow and brown. Come and discover them in our dedicated section to natural fibers!