Pastel refinement: the Miyette brand chooses Schmid for its creations
The Parisian luxury brand founded by Boris Tardy and his sister Roxane chose Schmid's glitter for two handbags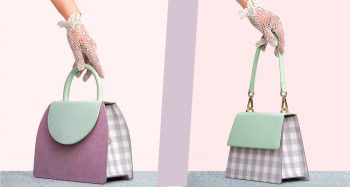 The elegance of pink, the grace of green, the freshness of light blue: the subtlest and most romantic shades characterise and embellish the fashion accessories of Miyette, the Parisian luxury brand founded by Boris Tardy and his sister Roxane, who are both fond of art and of the most sophisticated design.
Their vision is a tribute to childhood memories, a tender leap into the past that finds room in handbags featuring soft colours, similar to the macarons that can be eaten along the streets of Paris.
Two of the creations from their 2020 Spring/Summer collection are embellished with the gingham printed pattern of Schmid's 2020 S/S collection.
Geometric, bright, delicate: this glitter gives the suede and varnish of Miyette bags an unmistakable and very delicate candy effect, conveying striking elegance and refinement.