Stylish details: all the accessories you need for a fashionable 2019 summer season
Precious sandals, transparent bags and some romantic accents right from the 2019 Spring/Summer collections!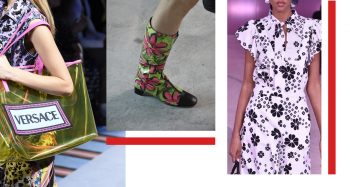 Shoes, bags, eyewear, jewellery: for those who, just like us, have not yet gone on holiday (and still do not know what to pack), here's an overview inspired directly by the 2019 Spring/Summer collections!
First, take note: composé, i.e. shoes and bags of the same colour, is back this year. So, pay attention to nuances and colour combinations. Simplicity, as always, pays off, but if you want to dare… focus on red!
Décor sandals, embellished especially with glitter and sequins, are a must-have: they are paired with short skirts and shorts during the day and with long patterned dresses at night. To get an idea of these refined but also lively materials, just click here and here.
Ample room is given to see-through bags: plastics and PVC become the ideal materials for transparent and extremely glamorous bags. If you love such efficient and versatile products, visit our section dedicated to vinyls!
Vitamin colours, just like citrus peel! It's impossible not to be enthralled by the "energizing" touch of lemon yellow, acid green, bright orange. Our article on trends published in May dealt precisely with these hues, see them here.
And lastly, a must-have for those who do not want to do without romanticism and elegance, not even in the summer: the scarf printed in floral patterns. To be tied to your bag or in your hair, this summer is a triumph of draped and floating fabrics. We talked about this in April, in an article dedicated to Schmid's flower-power patterns!