Organic elements for a "natural" springtime
Twelve fabrics that demonstrate how Nature is able to fully give way to creativity.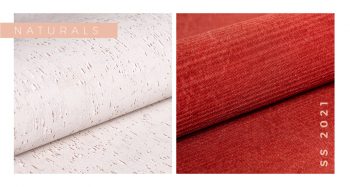 A line of fabrics that reveals Schmid's ability to generate poetry and romance by using elements from the organic world. Twelve fabrics that demonstrate how Nature can fully give way to creativity which, in turn, spins and tacks dreams, weaves, wefts and tactile patterns through manual dexterity and workmanship.
Naturals is the first theme of the 2021 Spring/Summer Collection of this Milanese company. It comprises soft, deep and enveloping materials and fabrics.
Robust and ductile canvas prevails, which comes in multiple variations. Like Curcuma, a new stretch canvas made with a mix of organic fibres such as hemp, flax and elastane and in colours recalling the warmth of summer wheat fields. Structurally very elastic, it is perfect for footwear and leather goods.
The other key items of the collection include a thermo-printed canvas with a vintage effect (Tenerife) and a lightweight cotton-type terrycloth (Alghero), comfortable and soft, which is just perfect for the internal lining of spring shoes.
The warm and dusty colours of this line are mainly linked to the world of raw nature: sand, pink, yellow, mustard, orange, grey, nude and dark brown.
For a first look, we will be in New York today for the new edition of Lineapelle (Booth 38). Or just click here.