Hyper street: 20-21 Fall/Winter accessories are inspired by the city world!
Creativity, technology, suggestions from the street style world: Hyper Street is the first mood of the autumn / winter 2020-2021 collection by Schmid!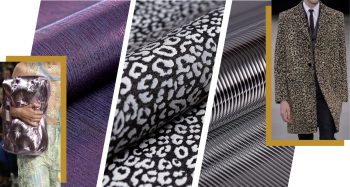 A free style, an open and radical mind. Hyper Street is the first mood of Schmid's 2020-2021 Fall/Winter collection and will be officially presented on 17 and 18 July at Lineapelle New York.
Creativity and suggestions from the street style universe are behind the creation of these fifteen fabrics, featuring plenty of brand-new geometries and perspectives. The street world is mixed with a casual classic feel to give life to a number of modernly-inspired and contemporary treatments embellished with a strong technological component.
Jeans fabrics like Crush and District feature laser engravings of camouflage or animalier patterns, with a creased effect and metal laminations.
The nylon of Salem, padded and quilted with fur, warms up more winter-like accessories, while the graphite printing of Eureka makes the Lycra surface similar to a carbon sheet.
The glitter of Vulpes is extremely bright as it is treated with white plaster, which amplifies its gloss, making it almost dazzling.
The colours of this mood derive essentially from the street, from the world of city buildings: grey, silver, charcoal grey, blue and black. Orange is the only bright touch that illuminates and warms up fabrics.
We look forward to showing them to you as well as to customising them for you, thus creating new and extremely original accessories. Contact us!