Iridescent, sporty and fashionable: 2020-21 Fall/Winter accessories shine thanks to PVC finishes!
Trends are dictated by lights and glows, by the silver and laminated reflections that make next winter the season for plastic materials!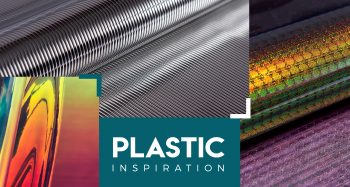 Iridescent and sidereal. Accessories from the 2020-2021 Fall/Winter collection are lightened up by flashes of PVC and mirror-effect sheets, creating a look that shines of its own light.
Therefore, ample room is given to iridescent colours and fabrics that come directly from the Eighties, the absolute stars of outfits conveying a unique and cool feel. Lights, flashes, silver and laminated reflections set the trend, making next winter become the season of plastic materials.
These have been included by Schmid in its 2020-2021 F/W collection, with fabrics and finishes designed to give a mirror effect to shoes and bags, for a transparent and soft performance also on traditionally stiffer materials.
A mirror effect sheet, thermoformed with a 3D horizontally striped drawing, has led to Mirror Stripes. A lurex jacquard incorporated into PVC has given life to Koi Glass, an ultra-bright fabric. And, lastly, the combination between PET and iridescent PVC is the idea behind the transparent and robust Kaila.
Bags, shoes and small leather goods thus acquire a futuristic, bright, chic look whilst remaining light and flexible. Be amazed by the high performance of our products. To get to know us, just click our contact section!