The 2020-2021 Fall/Winter collection on display at Lineapelle Milano!
Lineapelle is underway until 4 October in Rho Fieramilano exhibition spaces.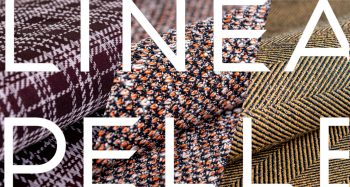 Sophistication in the selection of materials, innovation, attention to sustainability: the 20-21 Fall/Winter Collection is ready to be fully revealed, as from today, at the new Milan edition of Lineapelle, held until 4 October in the exhibition area of Rho Fieramilano.
Three inspirational moods, ranging from the street style of the wonderful 1970s to the psychedelic charm of our days, then descending into a more traditional, intellectual and timeless style. For each of these three expressive representations, we have come up with important and revolutionary technical characteristics, with customised bases and treatments conceived ad hoc for each fabric.
The collection also features ultra-modern techniques such as graphite carbon-effect printing, which makes the fabric impenetrable and virtually indestructible, or reflecting printing, a complete innovation that adds the technical brightness of reflectors to the glossiness of glitter, conveying a luminescent but also (and above all) glamorous effect.
Many materials have a shining and exuberant feel, with a silky, velvety and chic texture: from 3D lurex-effect jacquards to extra-thin glitter.
Room is also given to organic and natural products with a rustic, comfortable and handmade appearance: from knitwear in pure wool to incredibly soft velvets up to soft and cosy jacquards.
«Lineapelle is once again an important opportunity to showcase our products and strengthen our relationship with existing and new customers» said Paolo Ciccarelli, Chairman and CEO of Schmid. "The quality and handmade feel of our materials have always been our strengths, and this 2020-2021 F/W collection is no exception. In fact, the themes of the fall/winter collection feature special materials and fabrics, embellished with colours from the street style and the 1970s, including animalier touches and plenty of glitter to colour the most glamorous proposals. Schmid thus pursues its commitment by paying greater attention to the beauty of fabrics, to innovation and the search for an ever wider range of alternative options to offer its customers, but also paying attention to sustainability, which means for us to pay attention to the environment, to people, to the area where we work».
At our booth (pavilion 9: G21-29 H22-30), you will be able as from today to experience the excellence of Schmid fabrics and meet our company's designers, who will illustrate in detail all technical and stylistic specifications. We look forward to seeing you!