March arrives in the name of sparkling and sophisticated Blue Serenity
A shade that recalls the colour of the sky in spring, combined with Schmid's unique quality.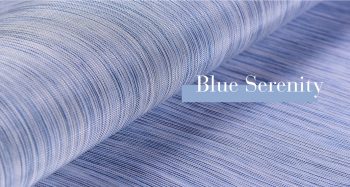 Early spring vibrations take us to places full of light, where we are free to express the most sparkling version of ourselves. To celebrate the first days of March, we have chosen a romantic, lively, bright and elegant shade of blue. It is called Blue Serenity and is a special combination between blue and light blue that recalls the colour of the sky in spring and is just perfect for a marine-style wedding day.
Several fabrics from Schmid's Spring/Summer 2020 collection recall this hue: like Giuliano, one of the twenty-two Endless Future fabrics, a technical-sporty satin combined with a rigid net, featuring a 3D lasered lamination for a transparent effect.
The Wonderlandia theme, instead, features Manet, a spring-like jacquard with contrasting colours giving rise to a tartan pattern; and Pinot, a glitter whose geometric elegance is printed on a net of light colours.
The natural fabrics recalling Blue Serenity include Myriad, a striped flock on a denim base, embellished with a sophisticated unicolour line that recalls parallel straight lines that are bound to stretch on forever, without ever intersecting; and Maki, i.e. a nylon enveloped by a close weave net, with mélange effect streaks.
Let yourself be carried away by the power of this shade. To concretely touch Schmid's quality, just click here.