Naturalia: authenticity has never been so trendy
The third mood of the spring / summer 2020 collection recalls the contact with the earth and with our primitive dimension.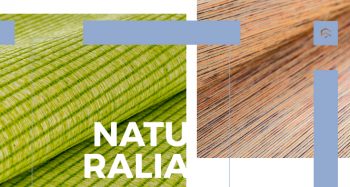 The third mood of the Spring/Summer 2020 collection recalls our connection to earth and our primitive dimension.
Warm and opaque fabrics, whether coloured or in solid colours, to meet our inherent need for colour. Naturalia is the third mood that has inspired the fifteen fabrics from our Spring/Summer 2020 collection, which recall our connection to earth and our primitive dimension. The plant world thus becomes our raw and integral second skin, but always a trendy skin. Authentic and contemporary.
The primary and bright colours of Cheope, a raffia in solid colours with a clean-wash effect, encounter the rustic opaqueness of Mumbai, a canvas which is open to the most diverse treatments for its raw jute effect. Not to mention our cork fabrics: Circle, a natural fabric with a laminated treatment in micro polka dots that creates a mirrored effect, and Sicily, regular perforations on cork, inspired by the straw chairs of old Sicily.
The brightness of Calamaio, a glossy lamination on chocolate paper enriched with iridescent-effect dots scattered in a seemingly casual way, can be compared with the modernity of Rimmel, a canvas soaked with metal powders used for cosmetics, solid to the touch and to light, with hues recalling precious stones.
Exclusive, resistant, bright: our natural fabrics are ready to enrich your creations with so many different uses; come and try them!