Recycled, recyclable, eco-friendly: Schmid launches its first Green Fabrics line
As part of the Fashion System, Schmid is engaged in the search for new technical and stylistic solutions that do not damage the environment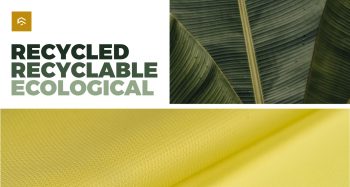 Schmid has always believed in corporate social responsibility and in the values of sustainability. A way of thinking which is reflected in our actions every day and in our work.
That is why our new 2021 Spring/Summer Collection includes a line of recycled, recyclable and ecosustainable line of fabrics called Green Fabrics.
Being part of the Fashion System, we are actively engaged in the search for new technical and stylistic solutions that do not damage the environment and the planet: for example, we have chosen recycled fabrics because they connect the past to the future. Materials range from cotton fibres (Volley) to linen (Juta), polyester (Sarabi) and plastic (PVC). They are all recovered from a previous life and are GRS (Global Standard Recycle) certified to guarantee full authenticity.
Recyclable fabrics have been specially designed to be easily reused, since they have a monofilament structure. These products have been developed respecting the environment and with the objective of making a difference.
Lastly, eco-friendly fabrics reflect Schmid's active commitment to sustainability: from glitter made with recycled glass to coloured water-based prints up to dyes made of 100% natural substances.
These fabrics bear witness to the values which our company believes in. That's why we cannot wait to show them to you. A little step toward making the world a better place.