Schmid for Tapestry: research and innovation for designers across the ocean!
Our expertise flies to New York to take part in the internal fair of the Tapestry Group.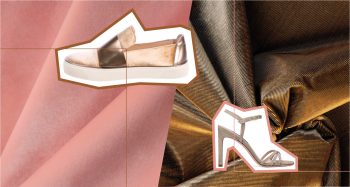 Creativity, craftsmanship, authenticity and innovation: these are the key features of our brand identity that make us stand out on the American market. On 4 April, we flew over to
New York
to take part in the internal trade show of the
Tapestry Group
, a group that brings together three major U.S. brands:
Coach
,
Kate Spade
and
Stuart Weitzman
.
We made the most of our expertise – consisting of fabrics and treatment techniques – to present proposals in line with our personality and our language, though especially designed for the Group's brands and based on their qualities.
We included in Schmid for Tapestry some of our most important (and timeless) classics – starting from our bases in glitter, lurex, velvet, satin, stretch, natural fibres and PVC – and, quite obviously, the fabrics from our spring/summer 2020 collection with its three moods: Endless Future, Naturalia and Wonderlandia. .
Ample room was given also to the treatments created by using the most advanced methods: from digital printing to glitter printing and the flock, to enrich fabrics with suede-like patterns, and embossing. The result? Trendy products in line with the taste of American designers!