Schmid presents its Summer Honey Ripstop
One of the hit fabrics of the autumn collection is now full of summer with new, brilliant colors.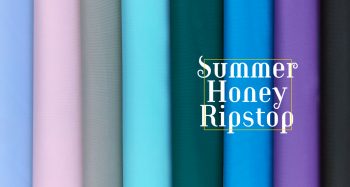 All fashion houses are completing their spring/summer 2020 collections these days. Just the finishing touches and soon everything will be ready for another breathtaking season.
And it is precisely for this special occasion that Schmid has coloured one of the top fabrics of its 2019 fall/winter collection with new and bright hues: turquoise, green, water, mint, sand, yellow, purple and nude. It has been called Summer Honey Ripstop precisely to emphasize the summer-like, energetic, bright feel of these new nuances which are the result of a printing technique that makes them easily customizable.
Our ripstop is a polyester fabric, enriched by a reinforcing technique that makes it extremely resistant to tearing and ripping. During weaving, the reinforcement threads are intertwined at regular intervals on a cross background. Intertwined threads are usually quite visible in ultra-light fabrics; yet, the special weaving techniques used by our craftsmen make these weaves literally invisible.
Our Summer Honey Ripstop combines the high performance of a nylon yarn with the delicate and featherlike quality of a "summer" fabric. Take a look at these images and call us!