Schmid gears up for the launch of its new SS2021 collection, scheduled on 29 and 30 January at Lineapelle New York!
The Metropolitan Pavilion in New York will be the stage for the presentation of forty, spectacular works by Schmid.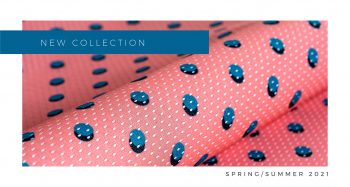 Quality and refinement, combined with ongoing research, study and experimentation: these are the distinctive traits of the new 2021 Spring/Summer textile collection.
Change and excitement is in the air at Schmid's headquarters in Milan in view of the new edition of Lineapelle. The event, scheduled on 29 and 30 January at the Metropolitan Pavilion in New York, will be the platform for the launch of these forty spectacular fabrics.
The concept of the collection is centred around three themes: with the first, Naturals, Schmid has taken up the challenge of making elegance exude from organic and biological elements like natural fibres.
The second theme, Geometrics, combines technological experimentation, optical effects and illusions, whilst paying great attention to Planet Earth.
The third and last theme, Shape of Flowers, stands for natural and contemporary luxury, a cool and digital form of romance of our times.
But there is much more: in addition to these three moods, Schmid has developed a line of Eco-friendly fabrics: some of them are made with GRS (Global Standard Recycle)-certified recycled yarns, others with single-component and thus easily recyclable materials, and others are produced with environmentally sound methods.
The items from the new collection and the fabrics from the Eco-friendly line will be previewed for the first time in New York. We look forward to seeing you at our booth number 38!