Sporty and high-performing: Schmid introduces Commodor!
Very soft to the touch, but with very high performance: Commodor is a sporty fabric, with great flexibility.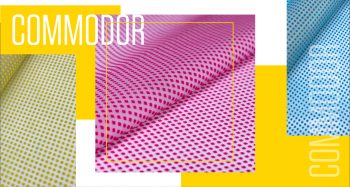 Dynamic, in shape and ready for adventure: in spring/summer 2020, it will be a pleasure to get lost in sports, leisure, outdoor activities but also in the city! This is possible (also) thanks to technological innovation in the textile sector which, being aware of the rising interest in lifestyle, allows for the production of more and more high-performing fabrics.
It is precisely in this light that Commodor has come to life, a checked flock on a mesh basis, which is part of the Endless Future mood, one of the three themes of Schmid's 2020 spring collection. The regular micro-inserts create a geometric effect with a contemporary and modernist feel, and enrich the transparent base of the mesh.
Very soft to the touch, but extremely high-performing: Commodor is a highly flexible sports fabric, which lends itself to the most diverse treatments and can be used continuously and repeatedly given its maximum resistance. Find out more in our product section. Commodor is available in different colours: yellow, pink, turquoise and black.