Psychedelic prints, saturated and bright colors: Edgy Shopper is the second mood of the A / I 20-21 collection!
Rich and luxurious textures, iridescent foils and references to the '70 disco style: here is a taste of the second mood of the collection!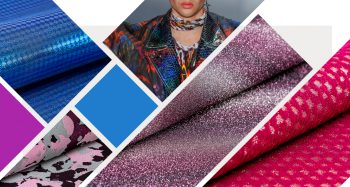 Glamour and femininity, with references to the disco style of the fantastic Seventies: Edgy Shopper is the second mood of Schmid's Fall/Winter collection. A clear invitation to experience freedom through fashion, to relive a decade where everything is possible, in terms of style and not only.
Saturated and bright colours and psychedelic prints embellish the footwear and accessories of the next cold season: gold, bottle green, acid yellow, burgundy along with purple and black.
The jacquards of the new collection take shape through rich and exclusive designs created specifically for Schmid. The iridescent and intertwined threads create rich and luxurious textures, while the tiger designs on coloured wool give life to the animalier charm.
The iridescent sheets on PU or PVC are a must-have of next autumn. Not to mention tulle, though in an innovative version in pleated lurex with thin stripes for a bright and refined effect.
Ample room is given also to nylon meshes: thick but transparent, embroidered with 3-colour strings that create distorted and psychedelic flowers.
Nineteen fabrics, nineteen one-of-a-kind treatments that can be customised to give life to new creations. For a first look, visit our products section or contact us!