A Met Gala 2019 in the name of eccentricity: the Camp theme according to Schmid
The quintessence of extravagance on the New York red carpet, including tulle, sequins and nets.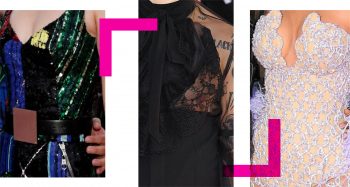 The most sparkling fundraising night of the year, with which the Metropolitan Museum of Art in New York opens its annual exhibition every first Monday of May, is certainly one of the most anticipated red carpets of the season. Last Monday, actors, models, tycoons, influencers, singers and businessmen from the international jet set world strutted the 150-metre long red carpet that leads to the museum.
The theme of the 2019 edition of the Met Gala was the Camp theme, this meaning unbridled kitsch, the quintessence of extravagance, theatricality and love for excess. One of the representatives of extreme aesthetics was Harry Styles, the former member of the One Direction boy band, whose successful look will be remembered in the history of the event. The interplay of transparencies in the upper part of his dress, which recalls the tulles from Schmid's 2019 Spring/Summer collection, is unique indeed.
A sparkling Sophie Turner wore a jumpsuit decorated with sequins in geometric patterns designed by Nicolas Ghesquière, the well-known designer and creative director of Louis Vuitton. Also in this case, some of Schmid's ever-innovative creations recall this outfit, like Mix Sequin and Fish Sequin, two evergreen fabrics that can embellish any luxury product.
And, lastly, the dress of feathers and meshes donned by Kylie Jenner, which brings immediately to mind meshes like Notre Dame or Maki. In conclusion, this year's Met Gala theme was the most imaginative, rich and creative of all times, with a "feel" that was interpreted in many different ways, with plenty of "glam" and references for everyone.