A bold and romantic "back to the future": Dash is the new tulle by Schmid
Perfect for a daywear shoe or bag, but also for the most exclusive accessories.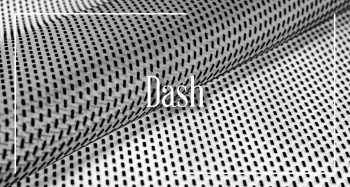 A search path to define an identity: the identity of a bold, romantic woman, with a touch of calculated eccentricity, who stays away from constraints to wear sophisticated yet sporty accessories that enhance her natural sensuality.
Dash has been developed precisely to meet these needs: a flock featuring light dashes on a tulle base, ideal for shoes or a daywear bag – though always in line with the glamorous attitude that is typical of fashion – and also for gala evenings, to be worn on the most exclusive occasions.
Uniquely beautiful, comfortable and refined, this fabric by Schmid – which is part of the Endless Future theme of its 2020 Spring/Summer collection – stands out for its excellent technical performances and its elegant, fresh and contemporary quality.
The colour palette ranges from fuchsia to light blue, including two shades of black: on a transparent base and black on black. To find out more, just click our products section and, if you want to concretely touch the fabric, contact us!