Velvet touch: reflections of soft light for 2020-2021 Fall/Winter
Velvet clothes (and coats) many of the accessories from the next cold season.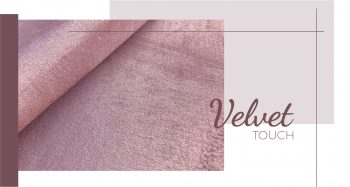 Unmistakable for its allure, it is beautiful to look at and work with for its softness and for how it reflects light. It is soft to the touch, silky and warm, inevitably elegant. Velvet is the softest trend of 2020-21 Fall/Winter, since it clothes (and coats) many of the accessories from the next cold season: from ankle boots featuring squared heels to pointed stiletto pumps. The charm of velvet captures also bags, from messenger bags to clutch bags.
Precisely for next winter, Schmid has developed a new type of elasticized velvet, available in sixteen colours, which is added to the already rich range of velvet combinations offered by the Company from San Giuliano Milanese, like velvet with a viscose base (Joy), velvet with a polyester base (Grace), cotton velvet (Silvia) and viscose/polyester mix velvet (Victory). They are all available in an incredible range of colours and possible treatments and double-foldings.
This new elasticized velvet, called Caterina, stands out not only for its brightness, but also for a new service offered by Schmid: a plurality of extraordinarily convenient sample colours, available in fifteen days with a minimum order of only twenty meters!
Its quality is so exceptional and its customization potential is so high that it has also been used for some creations of the new 20-21 F/W collection: like Quebec, a thermoforming solution with a polka dots pattern, or Anemos, a printed fabric embellished with psychedelic flowers.
You just need to contact us and try it!