Wonderlandia: romantic touches and fairy-like atmospheres for a collection…full of wonder!
Seventeen treatments, extremely colourful patterns and spring suggestions. Wonderlandia is the second mood of Schmid's Spring/Summer 2020 collection.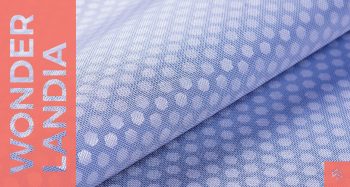 A fairy-like atmosphere with lingering and graceful suggestions, an imaginary world exuding charm and magnetism permeate the
Wonderlandia
mood of Schmid's Spring/Summer 2020 collection. It evokes different traditions, ages and Countries: from rich French tapestries of the late 19th century to Eastern influences from the 1920s, the ornamental motifs of these seventeen fabrics give life to a stunning blend of enchanting landscapes.
The mood features Alpine Checks like Glow, a geometric and bright gingham glitter, and French Checks like Bridge, a transparent jacquard with mesh inserts that create a houndstooth pattern.
The mood also gives room to the ever fashionable Animalier: we have thus created Lurex Spot, a leopard printed jacquard with iridescent threads conveying a shiny yet contrasting effect. Or Point, a slightly transparent PVC with irregular micro dots.
Lastly, a taste of spring with our Wall Paper Flower fabrics like Hippy, a micro floral jacquard with bright and contrasting hues. Or Aqua, a floral print featuring pastel shades creating a faint watercolour effect.
Magic and seductive, soft and yielding to the touch. The fabrics from the Wonderlandia mood have been masterly created by our artisans, especially for you. Come and discover them… let yourself by enchanted by them.