The future of young designers starts from Schmid's fabrics and flies over to America
A new confirmation of Schmid's commitment to young talents: the famous designer Angela Scott chooses the fabric of the Brera student Roberta Ercolano.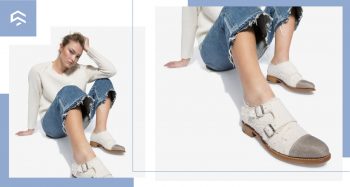 Our mission to bring the excellence of Italian craftsmanship all over the world goes on, focusing on products created by the youngest designers and supporting them since their very first encounter with the market. In the course of the 2018 edition of Lineapelle Milan, we presented the works created by students from the Brera Academy taking Professor Livia Crispolti's Textile Culture course, which were created by starting from our fabrics.
And it is precisely at Lineapelle that stylist Angela Scott chose the fabric Toile – created by Schmid on an idea presented by the young designer Roberta Ercolano – to produce a shoe that is now being marketed in America. The stylist was deeply impressed both by the characteristics of the fabric – consisting of unstitched threads reinserted as a natural spider's web – and by its industrialization by the company from S. Giuliano.
"I was impressed by the artisan feel of not only the fabric itself but also of its amazing treatment" commented the stylist Angela Scott. "When I later found out that the item had been designed by a student, I fell in love with it even more, because there is nothing better than to support young people in the creative industry".
The Office of Angela Scott is a creative laboratory that transcends the boundaries of traditional crafts by introducing unconventional materials. The idea behind the creation of the shoe is to offer a "deconstructed" version of a typical double monk strap. Roberta's fabric thus perfectly complements the raw material used in the tip: it proves that not everything that is beautiful must necessarily be buttoned up.
Roberta herself is enthusiastic about her work and about the opportunity offered by Schmid: "I had the opportunity to get to know the history of this company and I was captivated by it: by its desire to work, create, search, go beyond and grasp every single detail. This is what fascinated me. Schmid allowed every student to work with its fabrics, to build their own future».